---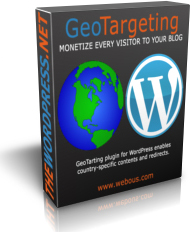 WordPress GeoTargeting Plugin — ORDER NOW
version 1.0.2
Use this wordpress plugin to output contents based on visitor's country or simply send all traffic from certain countries to other source.

Automatic GeoIP database updates.
One click installation.
Price: $25.00 per license.
One license allows you to use this software on any wordpress blog you own. You can not put it on any website for download; you are not allowed to email it to your friends or share it in any other way.
We accept:

Order now: click here to order WordPress GeoTargeting Plugin ver 1.0.2 now
We also accept Bank Wire and Western Union transfers. Please contact us for more info on these payment options.