---
Script support 2 types of users: Free and PRO users.
Everyone can register as a free user. To register as a PRO user, one must have special Registration code. This code can be generated using admin panel.
Admin can change status of any user using admin panel.
Free and PRO users have different limits for number of campaigns and subcampaigns they can run simultaneously.
After filling the registration form user must confirm her email address by checking mailbox and clicking special link on a mail sent to that address.
After confirmation user can login and use tracking features of the script.


---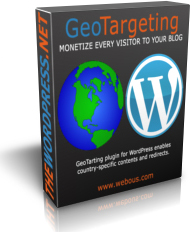 ver 1.0.2
Use this wordpress plugin to output contents based on visitor's country or simply send all traffic from certain countries to other source.

Automatic GeoIP database updates.
One click installation. More details »
October 2009

July 2008
Article Import Plugin ver 1.19
»»»

June 2008
Article Import Plugin ver 1.18
»»»